Area
International cooperation promotes protection
Several protected areas in the three neighbouring countries have been established to preserve the great wilderness areas. A vast co-operation area stretching across three national borders is protected. The protected areas include the Vätsäri Wilderness Area in Finland, the Øvre Pasvik National Park, the Øvre Pasvik Landscape Protection Area and the Pasvik Nature Reserve in Norway, and Pasvik Zapovednik in Russia.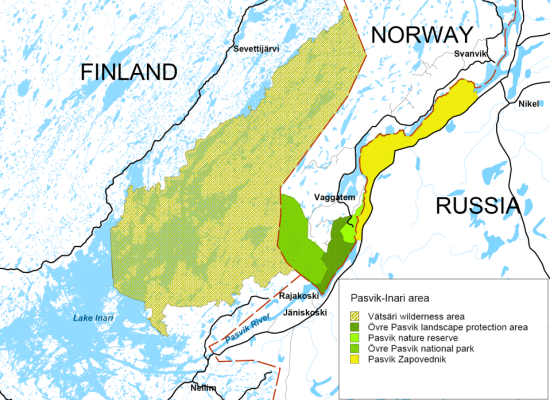 Map is available as PDF for printing
Cooperation between the organisations responsible for the management of the areas in Finland, Norway and Russia emerged from the need to preserve the unique natural values of the area. Since the establishment of the protected areas in early 1990's, the cooperation between the environmental authorities in Finnmark, Lapland and Murmansk has been active. The main objectives of the cooperation are promotion of the nature protection and preservation of the cultural values and sustainable management of the protected areas. Important means to promote the nature protection are environmental education and development of joint research and monitoring programmes. The protected areas in the three countries are seen as a whole and are joined under the umbrella Pasvik-Inari Trilateral Park. The environmental authorities of the three countries meet annually together with the municipalities to discuss common projects and nature management issues.