Promotion of Sustainable Nature Tourism
The special characters of the nature and history make the Pasvik-Inari area interesting for visitors, and the increasing international tourism brings new demands to area management. The trilateral cooperation in nature tourism in Pasvik-Inari has intensified during the past years. Information material and nature tourism facilities have been developed within the cooperation framework. Paths with signposts have been prepared in each country and ideas for future work are plenty.
Nature tourism is based on the nature, and it is therefore significant that nature tourism stands on a sustainable basis and that the natural and cultural values are respected. With careful planning, the nature tourism can be directed to areas best suited to such activities.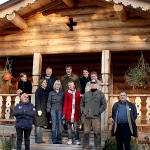 Enhancing the cooperation between the authorities, municipalities, nature tourism entrepreneurs, local inhabitants and other interest groups is essential for future development. In 2007, a nature tourism seminar was arranged in Svanvik, Norway. The seminar gathered 30 participants, entrepreneurs and authorities, from the neighbouring countries together to discuss the future of nature tourism in Pasvik and Inari. The continuance in border crossing cooperation was seen an asset to the development and the participants agreed to establish a voluntary trilateral group to promote the sustainable nature tourism and nature protection in the area.
The constitutive meeting of the Trilateral Working Group for Sustainable Nature Tourism was held in October 2007 in Nellim, Finland. The aim of the group is to promote nature tourism and strengthen the network between the interest groups. When necessary, the group may prepare proposals for the authorities and interest groups. The group will also provide information about nature tourism of the area to all interest groups in the Pasvik-Inari area.
Finland held the chair for the group for the first year. In the future, the chair will change annually. The members agreed that the trilateral working group will compose an intensive communication network with a flexible working method. Annual meetings will be organised and additional meetings can be held when needed.
The group consists of members from the following organisations:
Finland: Inari municipality, Metsähallitus, Lapland Natural Heritage Services, Paatsjoki-Nellim village society, Näätämö village society
Norway: Office of the Finnmark County Governor, Finnmarkseiendommen, Sør-Varanger Travel Forum
Russia: Border Commissariat, Economic Development Department of Murmansk Region, Pasvik zapovednik, Pechenga municipality and Pechenga tour operators.