Vätsäri
Vätsäri Wilderness Area
Location: Municipality of Inari, Province of Lapland, Finland
Area: ca 1550 km²
Establishment: 1991
Management: Metsähallitus Natural Heritage Services
Wilderness areas in Finland are vast, unsettled areas traditionally used for hunting and fishing. The wilderness areas located in northernmost Lapland are in Sámi homelands, where reindeer husbandry, natural livelihoods and more recently also nature tourism are practised.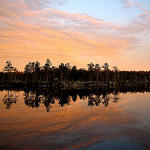 All 12 of Finland's wilderness areas were established in 1991. The aim is to:
maintain the wilderness characters of the areas,
secure Sámi culture and traditional subsistence uses and to
develop multiple use and its preconditions.
The wilderness areas are not true protected areas but belong to Finland's Natura 2000 network. To preserve the natural values the forests are maintained in the natural state and logging is prevented in most areas. The Wilderness Act forbids the sale and leasing of the land and the construction of permanent roads. No mines can be established without permission from the Council of State.
The Vätsäri Wilderness Area is located in the Municipality of Inari. It covers the eastern shores and islands of the Lake Inari and the vast pine forest cover cleaved by small bogs and ponds extends to the Norwegian border. A treeless highland opens northeast of the area, south of the Skolt village of Sevettijärvi. The Muotkavaara landmark (Treriksrøysa) of three borders, Finland, Norway and Russia, is located in Kessi area southwest from Vätsäri.
Most of the visitors stay in the Lake Inari surroundings, but some of them find their way to the heart of the wilderness. The wilderness area is a mosaic of forest, bogs, rockeries and ponds. The area is demanding and not recommended for inexperienced hikers. Vätsäri is not uninhabited. Instead, several small farms exist especially in the area surrounding Lake Inari. The abundance of fish attracts visitors from afar, and in the autumn the hunters find their way to the backwoods. Vätsäri is an important district for reindeer husbandry and forms most part of the pastures of two reindeer owner associations.