Old ways of life
From deer hunting to reindeer economy
Deer and elk have been hunted using hunting pits since prehistory. The pits were dug in lines along the ridges along waterways, and sometimes fences were built between the pits to lead animals in them. Other hunting methods were to catch the animal by bow, spear, lasso or gun.
Reindeer economy is a circumpolar cultural element which has strongly influenced the native societies. The Sámis' reindeer economy has developed during the centuries since the Middle Ages. People have moved along with the herds, and the life of the reindeer has cycled the year. Despite the border lock beginning in the 19th century, the herds passed across the country borders until the 1950s, when the border fences were built. It influenced strongly the reindeer economy, and some areas were divided into summer and winter pastures.
In Finland the reindeer owners' association is highest governing body in reindeer economy. Vätsäri Wilderness area is divided between four reindeer associations: Muddusjärvi. Näätämö, Paatsjoki and Vätsäri. In Norway the Reindeer Management is the highest governing body in reindeer economy. In the Norwegian part of Pasvik, one reindeer grazing district stays; Pasvik reindeer grazing district. In Russia the reindeer economy vanished gradually by the Russian revolution. Reindeers were gathered to collective ownership for which reason there are no reindeer in Pasvik River valley anymore.
Agriculture arrives in the north
On the Norwegian coast, sheep, cows and goats were known already in the Middle Ages when the permanent Norwegian settlement had spread to the fjords and islands. In the inland areas of Russia and Finland, animal husbandry and agriculture spread northwards along the Finnish and Russian settlement in the 17th century. Adaptation to agriculture was easy in the northern, lush river valleys, on the shores of which the Sàmi had always lived during the summertime. The warmth of the gulf-stream and the light summer nights compensated for the short growing period.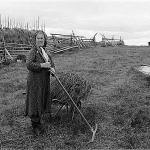 By agriculture and new settlement the Sámi settlement became more permanent, too, during the 18th century. In Lapland the Sámis had to change their way of living or otherwise they had gradually lost the best settlement places to newcomers. In the first half of the 19th century, the Sámi started to register their own lands, fishing areas and meadows, in order to protect the ancient ownership to the land.